Portomaso Buisness Centre Offices
Portomaso buisness centre offices located in the best part of this sought after town of St Julian's. A location which has become a highly sought after destination for commercial entities looking to set up office space in Malta. A state-of-the-art, prime Business Centre which is also an iconic landmark. Having opened in 2001, it was the first high-rise building in Malta standing at 98 metres tall. Offering a top-quality environment in which a company can thrive in offering a prominent address. A centre which offers top notch facilities which includes a 24-hour reception/security desk as well as underground parking.
The Portomaso Buisness Tower makes part also of a much larger development which covers nearly 130,000 sqm. Including also other amenities such as The Marina, a Yacht Marina, 5 star Hilton Hotel, Casino, Sea facing apartments as well as a great number of restaurants and cafe's. A development with that extra touch of luxuriousness in the landscaping and planning of this project. One is welcomed at the entry of this development by some really exotic Palm Trees and then leading on to the steps heading down to the panoramic marina. This is why Portomaso has been a hub for foreigners and locals alike since its an attractive development.
A range of different office space can be found within this Buisness centre. Having 23 floors and providing rentable spaces ranging from the smallest section of circa 50sqm to medium sized 166sqm office space upto larger 305sqm and 465sqm space. Most of which enjoy a spectacular view of the marina. Accessed through a welcoming lobby, gate security and fast lift access to every floor.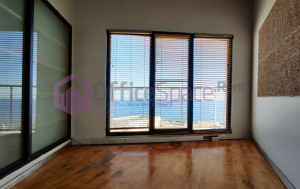 Leisure & Lifestyle
A development which offers most the day to day leisure and amenities to its residents. One can say that its a self-sufficient community and which caters for a car-free environment. Moreover, the development is maintained to high standards. Having a 24-hour security team, gardeners as well as premium businesses, cafe's and restaurants taking residence in its retail sites.
So if you are looking to relocate your office in Malta and hence looking to rent a high end office space in St Julians than this Portomaso Buisness Centre Offices solution is your best bet! Contact us for more info and availability within this area.